Supplying Australian schools since 1981
Abacus Calculators are Australian owned and operated. We are now in our 40th year of business.
Abacus stock all major brands;
SHARP
CASIO
TEXAS INSTRUMENTS
HEWLETT PACKARD
CANON
ABACUS - we now have our own brand.
Abacus Calculators are the No 1 National reseller of education calculators.
Abacus Calculators is committed to providing exceptional customer service and quality products. We endeavour to make sure that all products listed on our website are currently in stock and pricing is true and correct.
Standard delivery timeframes are between 2-7 business days; in the event that an ordered item is not available or we are unable to fulfil your order we will notify you within 2 business days to arrange an agreeable alternative item, a backorder or a full refund.
Abacus offer FREE phone number 1800 998 424
Abacus offer FREE fax number 1800 818 171
Manufacturers warranty on most products is 12 months. Abacus Calculators has extended this to 2 years warranty on certain products.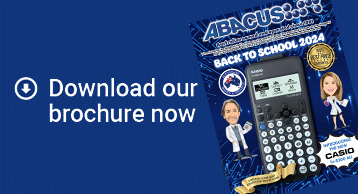 What our customers say
Working with Abacus to organise a large order of student calculators each year has been made very straightforward by their wonderful, helpful staff.
Their incredibly quick turnaround of our orders means our students have their calculators prior to the holidays to get started on learning how to use them. I would recommend them as a company that work with schools very effectively.
Lisa Saffin, Wesley College VIC
We have dealt with ABACUS for over 15 years and have always found them to be prompt, helpful, professional and competitive. We wouldn't go anywhere else!
Thom Mutton, Daramalan College ACT